LIVING WITH HIGH BLOOD PRESSURE
"I needed to change my lifestyle before it killed me"
– Jonas*, 70 years old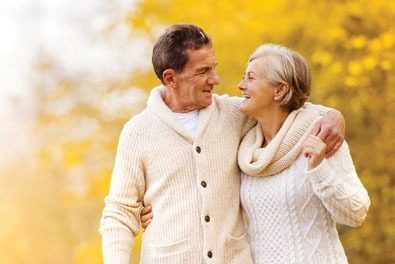 Jonas* is over 70 years of age and retired. He is an ex-smoker and was a moderate drinker. He had a heart attack at work at 58 and had a triple bypass open heart surgery a few months later.

Until then, he didn't know he had high blood pressure. At the time of his first heart attack, his blood pressure was 160/90 mmHg and he was immediately put on heart and blood pressure lowering medication.
Jonas' heart attack and bypass surgery changed his life forever. The period following his surgery was so painful and uncomfortable, that he found even walking a short distance difficult. His wife, Anne*, described this time as very frightening. Jonas however, took it as it came. He knew that with the support of his wife and family, he could get through it. He also took his recovery seriously.
"I needed to change my lifestyle before it killed me."
He underwent rehabilitation at the hospital and attended health education sessions on diet, exercise, and meditation, which he found quite useful. Jonas attributed his heart attack to the stressful and demanding position he had as an airline executive. Jonas not only changed his lifestyle but also his mindset. He took a redundancy package from work and to the astonishment of his friends and colleagues, never worked again. His heart surgeon attributed his quick recovery to him stopping smoking at the age of 41 and maintaining good general health after the operation.
"We do everything together."
He now walks 2.5 km every day. He cooks more at home, no longer eats junk food, and follows the Mediterranean diet as much as possible. He only drinks at social events. He also enjoys an active social life. Jonas sees his heart surgeon once a year, and his GP of 15 years regularly for check ups and other minor ailments. He also checks his blood pressure at home 2 to 3 times a week.
Over the past 20 years, his doctor has changed his medications a few times due to side effects. His blood pressure is currently controlled with two blood pressure lowering drugs. He also takes aspirin and a cholesterol lowering tablet daily. Since his heart attack and surgery Jonas and Anne "do everything together." With the support of his loving wife and children, by adopting a healthy lifestyle, and by taking his blood pressure lowering tablets regularly Jonas has overcome his fear of having another heart attack.
*Names changed. Stock photo shown.